Treatments
Therapeutic / Relaxation Massage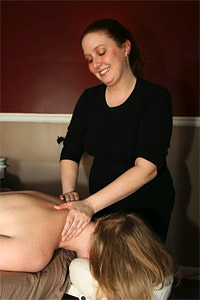 What's your trouble spot? Click here to find out how a therapeutic massage can help ease pain and discomfort.
Whether you're seeking a single treatment or a course of treatments on a regular basis, therapeutic massage and relaxation massage is used to treat pain caused by injury or muscle strain, and incorporates trigger point therapy and myofascial techniques to treat the pain and relieve stress.
Massage Rates
30 Minutes – $45
45 Minutes – $60
60 Minutes – $80
75 Minutes – $95
90 Minutes – $110
Hot Stone Therapy
A perfect hybrid between relaxing hot stone massage and deep therapeutic massage.  By utilizing the heat of stones, the muscles will relax quicker and allow for a deeper, more effective massage.
Hot Stone Therapy Rates
30 Minutes – $60
45 Minutes – $75
60 Minutes – $95
75 Minutes – $110
90 Minutes – $130
You can Add-On a "Stone Spot-Treatment" to any regular massage if you have just one trouble spot for $15!
Payment
Cash, Check, Visa, MasterCard, American Express and Discover.
Make an Appointment
To make an appointment, you can either fill out the form at the top or visit the contact page.